"Contemporary and emerging fisheries in The Bahamas— Conservation and management challenges, achievements and future directions."
Krista D. Sherman | Aaron D. Shultz | Craig P. Dahlgren | Claire Thomas |Edward Brooks
| Annabelle Brooks | Daniel R. Brumbaugh |Lester Gittens | Karen J. Murchie
The harvest of marine resources has long-standing cultural and economic importance to The Bahamas. Quite a demand from tourists and residents alike are placed on local marine resources, particularly Caribbean spiny lobster, (Panulirus argus) Queen conch, (Lobatus gigas) and Nassau grouper, (Epinephelus striatus), and many fishery products are also sold on the global market. With global fisheries in decline due to anthropogenic impacts including overfishing, invasive species, climate change, coastal development and pollution, this poses significant threats to biodiversity, ecosystem resilience and socioeconomic stability.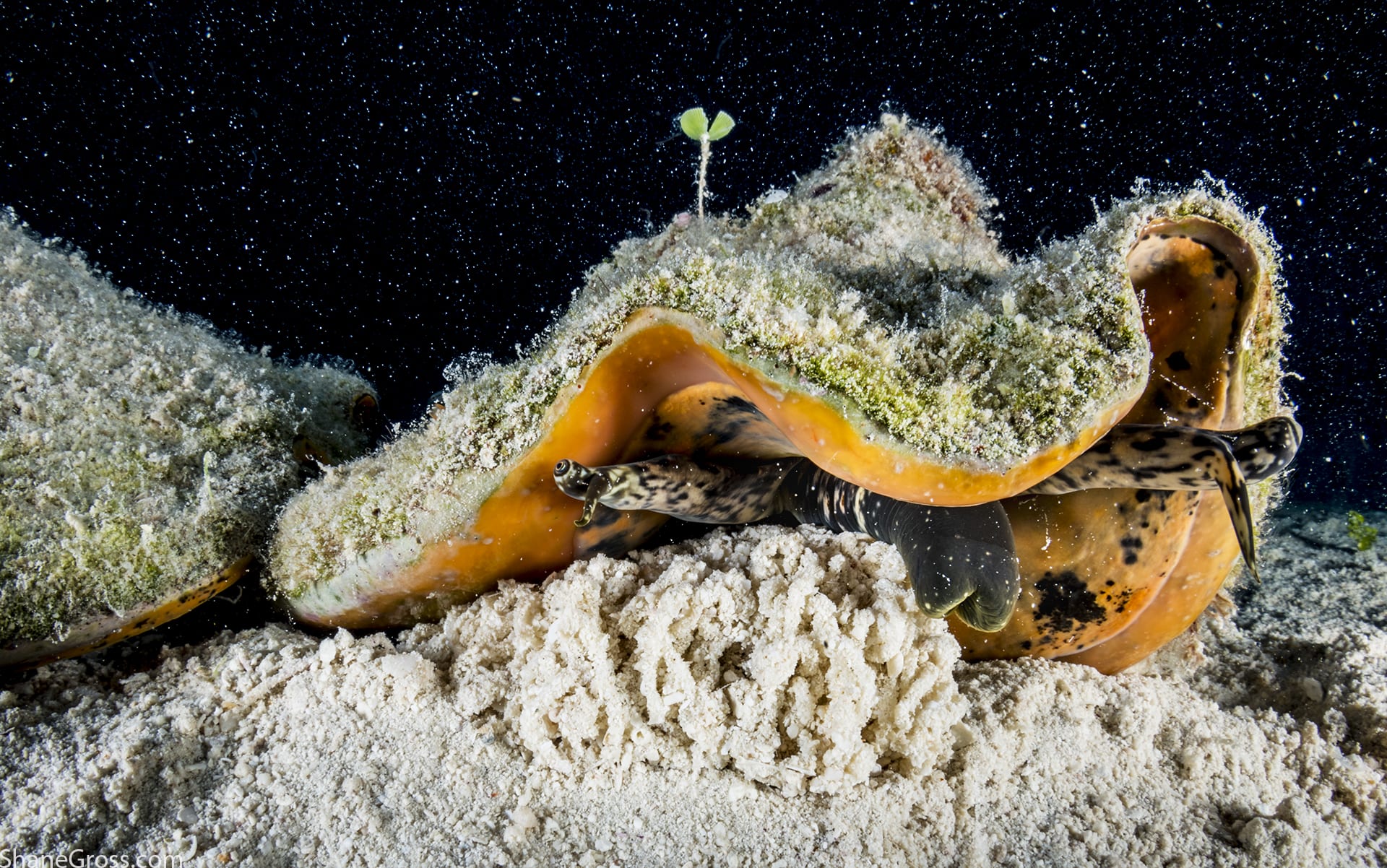 Above: Queen Conch (Lobatus gigas) Queen conch has been a significant part of The Bahamas fishery since the time of the Lucayans (900 1,500 AD) and remains the most important fishery species as a dietary staple and cultural icon. Photo credit: Shane Gross
Small island developing states (SIDS), such as The Bahamas, are especially vulnerable to these impacts and have experienced declining trends for many commercially important species, including three aforementioned marine species. Strategic management of these fish stocks is needed in order to stabilize this decline, however managing fisheries in SIDS is particularly challenging and even more so for The Bahamas with such broad spatial scale.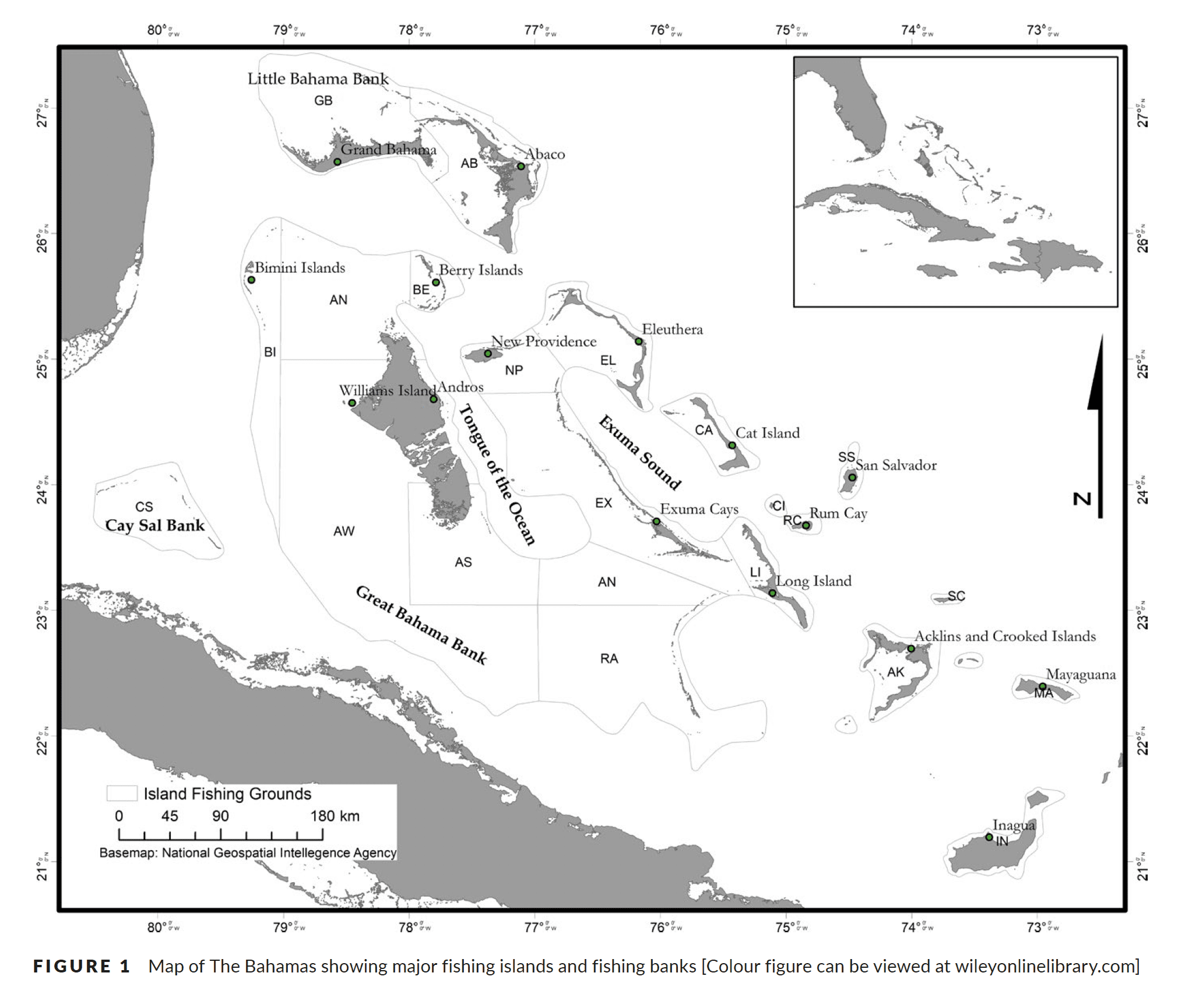 Above: Fisheries and marine resource management in The Bahamas is further complicated by its broad spatial scale. The country consists of 700 relatively flat islands and 3,000 cays encompassing ~300,000 km2 of land and sea.
Our scientific partner Dr. Krista Sherman along with our Executive Director, Dr. Craig Dahlgren and other partnering scientists recently published an article, "Contemporary and emerging fisheries in The Bahamas—Conservation and management challenges, achievements and future directions." This article reviews the status of fisheries management in The Bahamas using economically and ecologically important species as case studies to highlight conservation successes, knowledge gaps and deficiencies in existing management approaches. The review concludes with an examination of how emerging fisheries and improved conservation management strategies have the potential to improve economic and food security throughout the archipelago.
The article was published in Wiley Fisheries Management and Ecology Volume 25, Issue 5 and can be accessed here: http://dx.doi.org/10.1111/fme.12299
Thank you to Dr. Krista Sherman, Dr. Aaron D. Shultz, Claire Thomas, Dr. Edward Brooks, Annabelle Brooks, Dr. Daniel R. Brumbaugh, Dr. Lester Gittens, and Dr. Karen J. Murchie.
For more information on this article, e-mail us at info@perryinstitute.org.