Growing Hope – Perry Institute for Marine Science & Bahamas National Trust Install 2 Coral Nurseries in Grand Bahama
"By growing these corals in nurseries and restoring them to reefs we are giving these corals a chance to re-establish themselves and continue to provide valuable ecosystem services."
– Craig Dahlgren, Executive Director of the Perry Institute for Marine Science
On November 18th2018,  Perry Institute for Marine Science (PIMS) teamed up with the Bahamas National Trust and established a coral nursery in both the Lucayan National Park and the Peterson's Cay National Park on Grand Bahama Island. Each nursery has a total of 10 trees and each tree can hold 50 coral fragments. Therefore in total, these two nurseries combined have the potential to grow 500 coral fragments. These 500 pieces of hope will be used to rehabilitate the coral reefs of these beautiful, iconic national parks that are enjoyed by both locals and tourists alike. The species of corals growing in these nurseries is Staghorn coral (Acropora cervicornis) a rare coral species that creates habitat for marine creatures on coral reefs. The IUCN Red List of Threatened species classifies Staghorn coral as 'critically endangered' which is one step away from extinction in the wild.
Alannah Vellacott, Research Assistant at PIMS and a Grand Bahamian, participated in the installation, "Growing up on the water and going fishing with my neighbors, I have seen many of the once vibrant coral reefs on Grand Bahama fade into mounds of algae, void of colour and fish. It means so much to me that I have returned home as a marine ecologist and can help reverse the decline of coral reefs in my home country, especially on my home island."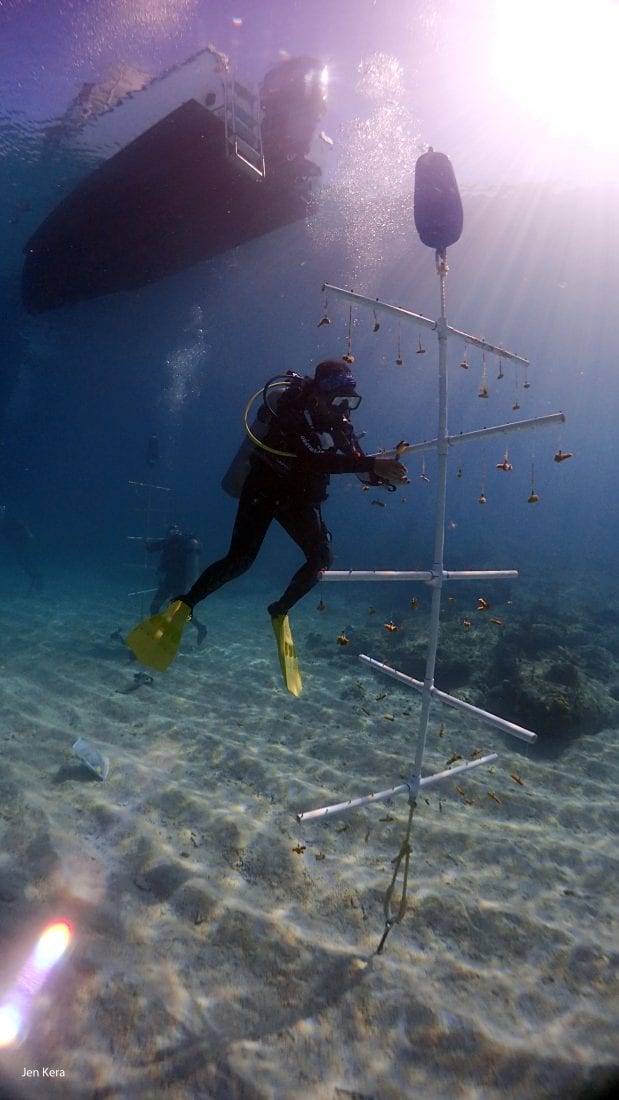 Above: Alannah Vellacott putting the finishing touches on a coral tree in Peterson's Cay National Park, Grand Bahama. (Jen Kera)
Lindy Knowles, Senior Science Officer at The Bahamas National Trust also participated in creating the first coral nurseries of Grand Bahama. "It is important to build coral nurseries because after Hurricane Matthew battered The Bahamas it also destroyed quite a few coral reefs here, so we need to build resilience within our national park system. Increasing the presence of endangered staghorn corals allows them to grow at rates quicker than they are naturally growing. We want to ensure they are increasing in abundance. We saw the loss in Staghorn coral before and after Hurricane Matthew in the Lucayan National Park in particular. This is a way to ensure long-term survivorship of key species within these national parks." Lily Haines, Senior Research Associate of Perry Institute for Marine Science and Agnessa Lundy, Marine Science Officer of the Bahamas National Trust also participated in constructing the coral nurseries.
Dr. Craig Dahlgren, Executive Director of the Perry Institute for Marine Science, planned and executed the installation of the two new coral nurseries, "We have seen the amount of Elkhorn and Staghorn coral, two of the most important species in The Bahamas continue to decline to the point where they have nearly been wiped out.  By growing these corals in nurseries and restoring them to reefs we are giving these corals a chance to re-establish themselves and continue to provide valuable ecosystem services.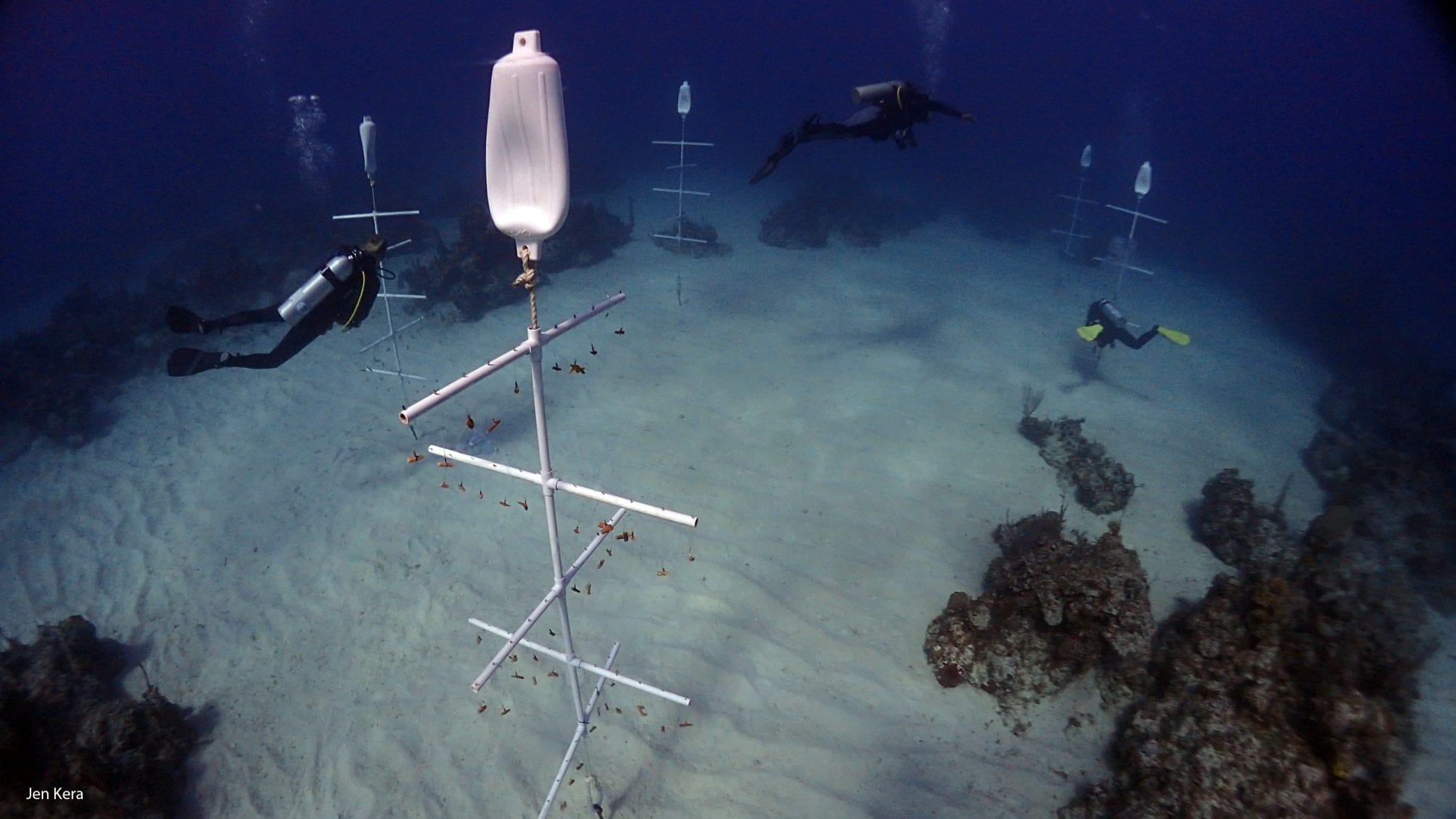 Above: The Lucayan National Park coral nursery sitting pretty in clean, clear water. (Jen Kera)
A month after the establishment of the nurseries, a team of volunteer divers including Ellsworth Weir, Grand Bahama Park Warden of The Bahamas National Trust, Jen Kera and Alex Wilcox of UNEXSO and Eric Nabb, a local volunteer, revisited the nurseries to check on the corals and to give the PVC trees a good cleaning. Though the coral fragments grow rapidly in the coral trees due to lack of predators, competition from other corals and carpeting algae, algae can attach itself to the PVC structure and overgrow the corals, blocking sunlight and flowing water. Coral trees need to be maintained on a monthly and sometimes biweekly basis depending on the location of the trees and the time of year.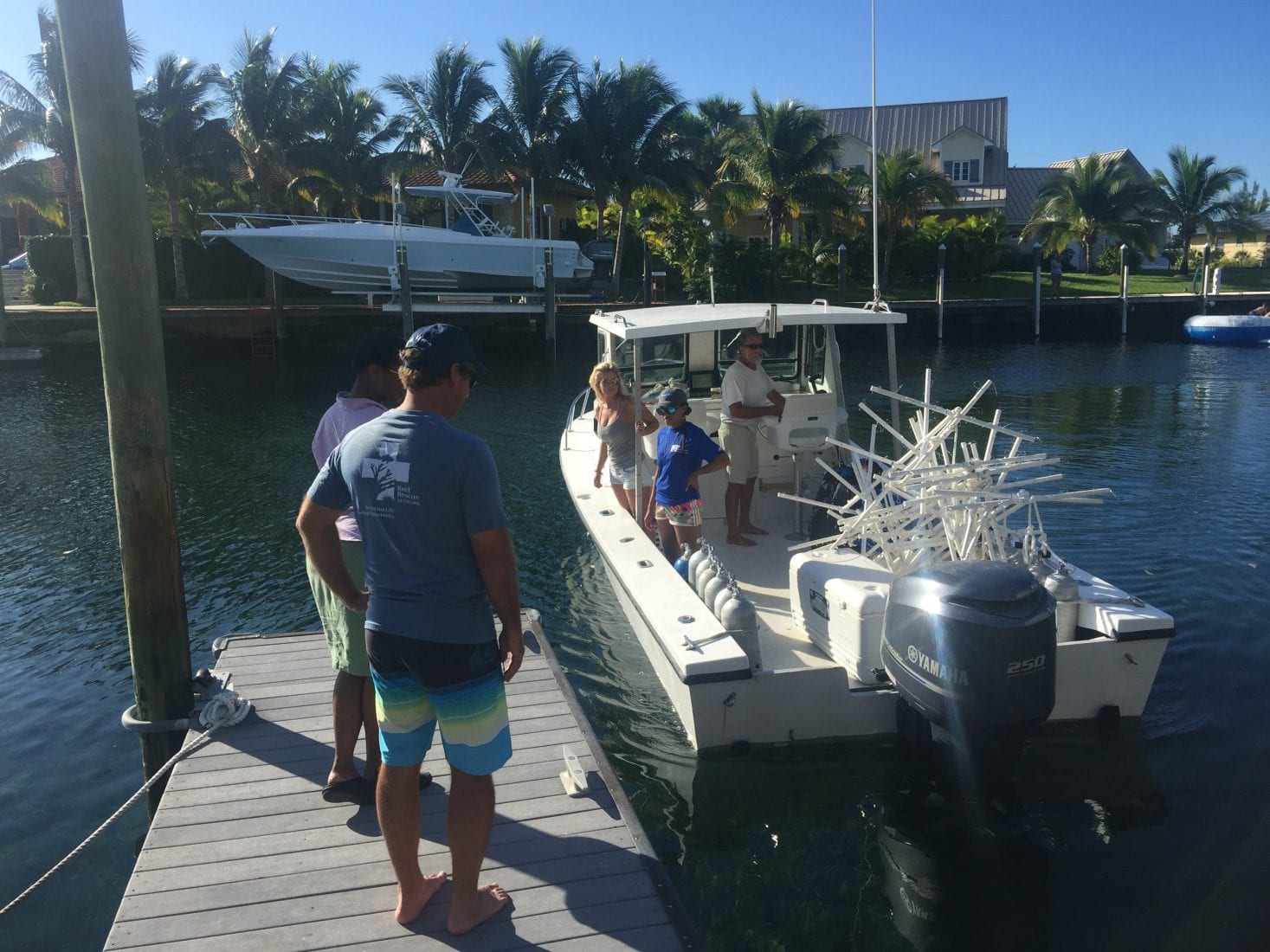 Above: The coral trees were constructed on land and then transported to the coral nursery sites. Local residents Frank and Sharon Benoit donated their time and resources to assist with installing the coral nurseries. (Photo Credit: Lindy Knowles, Bahamas National Trust)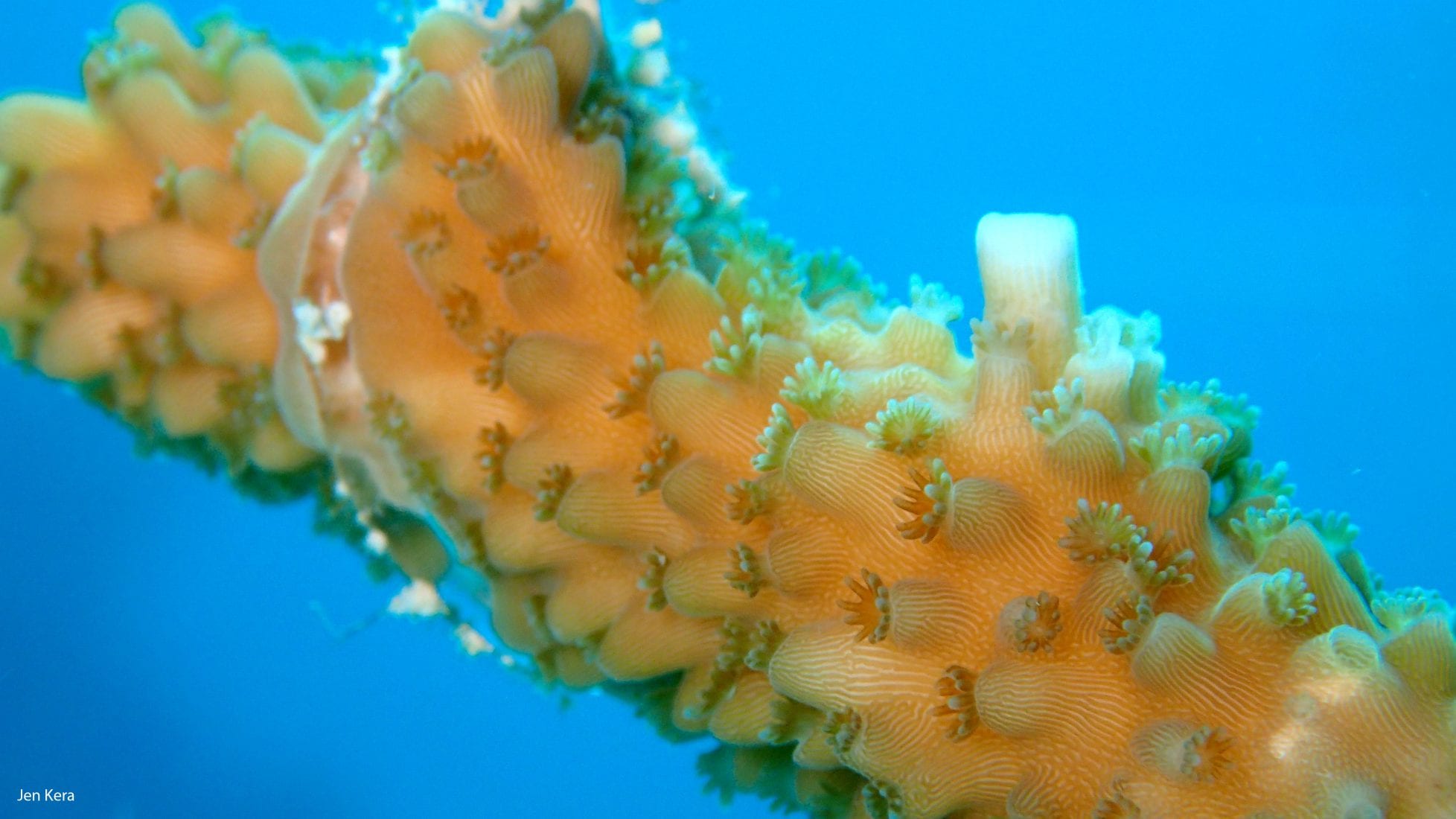 Above: After a month in the coral nursery, the fragments heal over their monofilament and their cut ends. (Jen Kera)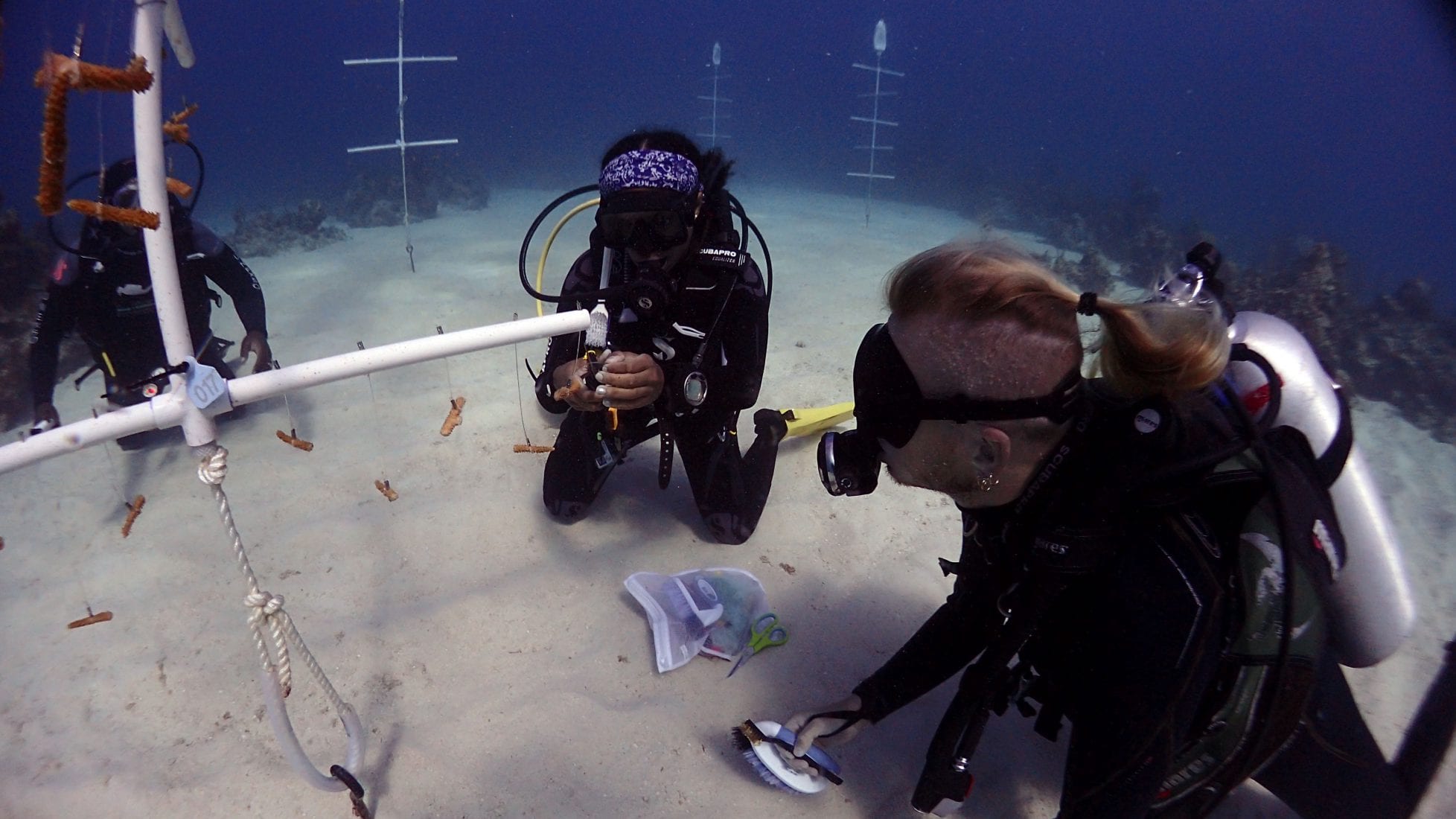 Above: Alannah Vellacott instructing UNEXSO staff how to properly clean the coral trees. (Jen Kera)
WHY GROW CORALS?
The Bahamas is intimately tied to coral reefs. They are the foundation of the economy, the backdrop of livelihoods and are weaved in the loom of cultural traditions passed down over many generations. Coral reefs provide many natural services (ecosystem services) that Bahamians greatly benefit from: storm surge protection, medicine, food security, and recreation. The last two, food security and recreation, provide thousands of jobs through tourism and fishing.
Sadly, coral reefs around the world are dying, including the coral reefs of The Bahamas that are so heavily relied upon. This delicate ecosystem is suffering from the effects of climate change, stronger hurricanes, pollution, overfishing and other human impacts. Many coral reefs are dying faster than they can regroup and regrow.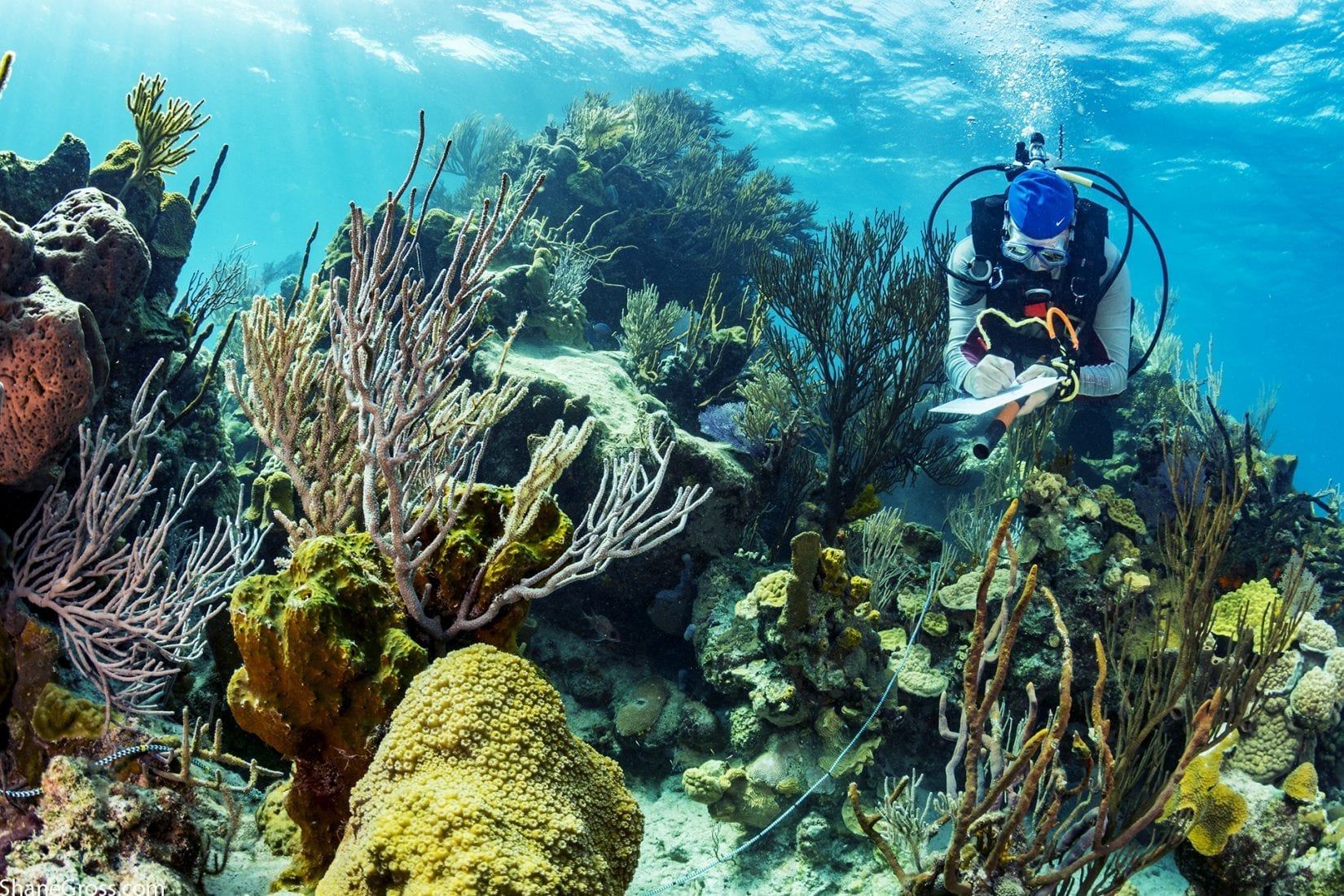 Above: A healthy coral reef ecosystem. (Shane Gross)
In an effort to turn the fate of coral reefs around, the Perry Institute for Marine Science is a non-profit, non-governmental organization on a mission to rehabilitate damaged and/or dying coral reefs through growing corals, the building blocks of a healthy coral reef.
Though corals appear to be non-living rocks, they are in fact a living colony of thousands to millions of tiny individual animals called coral polyps. Taking advantage of a coral's ability to regrow from broken fragments, PIMS scientists take these broken fragments and grows them in the ocean on man-made structures made of PVC pipe called 'coral trees' in groups called 'coral nurseries'. These fragments, hanging in the sunny water column, away from carpets of smothering algae and hungry coral predators, grow rapidly. Under these ideal conditions, coral fragments quadruple in size in 9-12 months, a feat that would normally take several years! Once large enough, a team of PIMS divers and volunteers harvest these large coral fragments and put them onto a coral reef in need of rehabilitation where they will grow and encourage fish and other marine creatures to live. However, the entire tree is not harvested. To ensure a never-ending supply of healthy corals, a small portion of each fragment is intentionally left on the tree so it may continue to grow and be harvested again the following year. These coral trees are the gift to coral reefs that keep on giving.
Above: A coral tree from The Bond coral nursery in New Providence being harvested. These cut pieces will be outplanted onto the nearby reef. In a year's time, the nurseries in Grand Bahama will undergo the same process.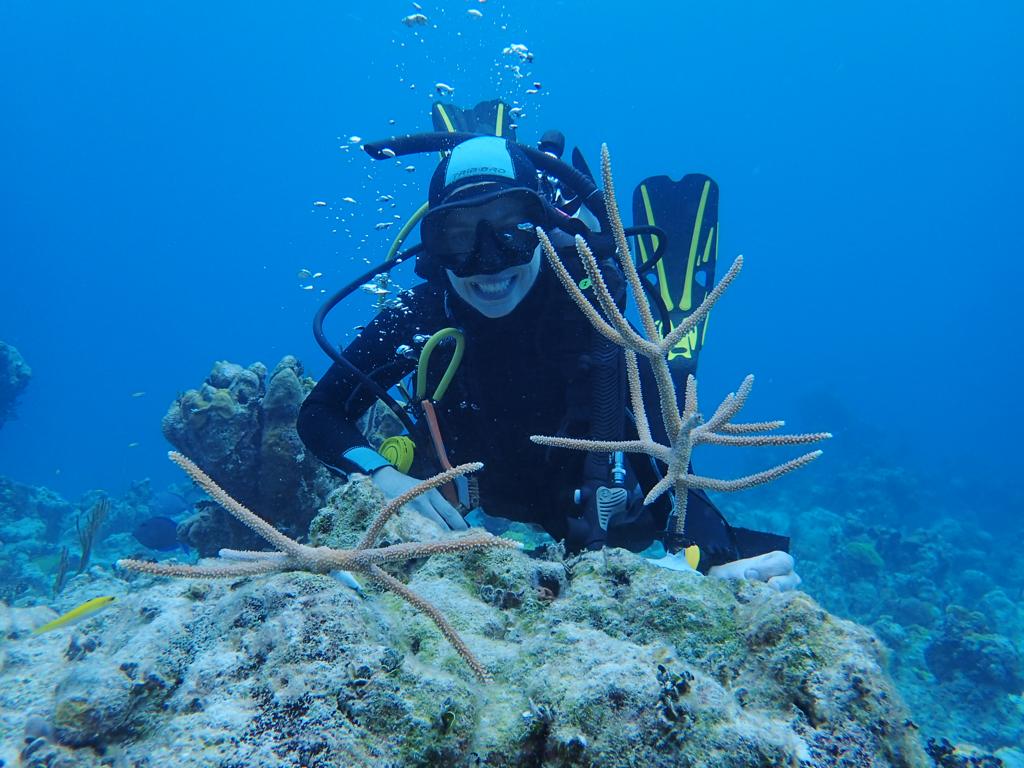 Above: A coral that has been out planted onto a coral reef damaged by hurricanes.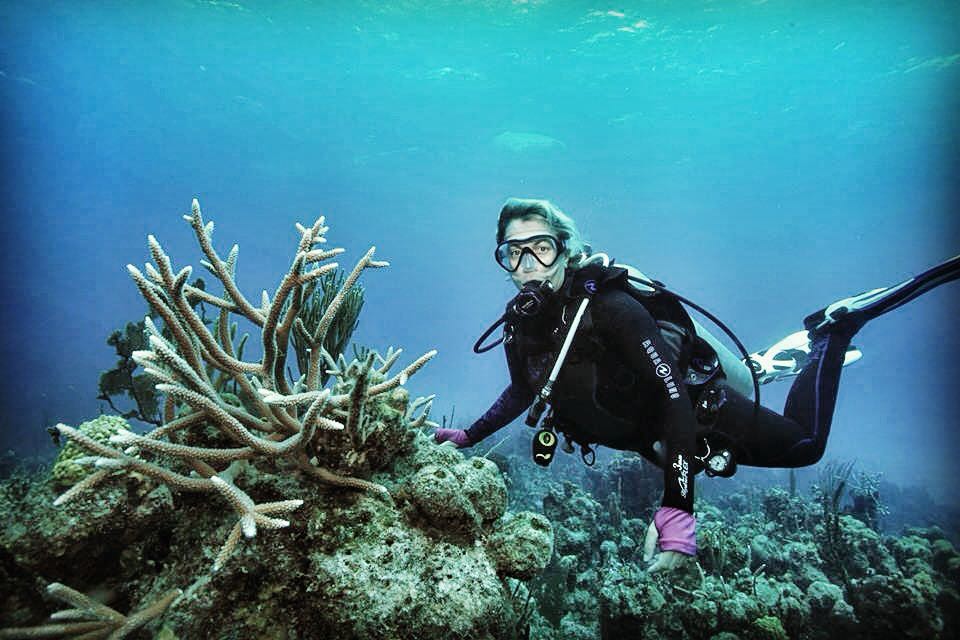 Above: Our Training Director & Coordinator, Hayley-Jo Carr observing a successfully outplanted coral fragment that has been successfully growing for 2 years!
Since 2008, The Reef Rescue Network has established a total of 31 coral nurseries throughout The Bahamas that are growing over 6,000 coral fragments that will assist in rehabilitating Bahamian coral reefs. The Reef Rescue Network is a part of the Perry Institute for Marine Science and coordinates coral nursery establishment, maintenance, management, outplanting and monitoring with its partners. The Reef Rescue Network also seeks be a leader in the creation and implementation of training courses to assist recreational divers to become involved with scientific diving to help protect the ocean and its inhabitants.
Thank you to the Bahamas National Trust, Cape Eleuthera Institute and Underwater Explorers Society for your continued support, and to volunteers Eric Nabb, Frank & Sharon Benoit for donating their time and resources to the success of the nurseries.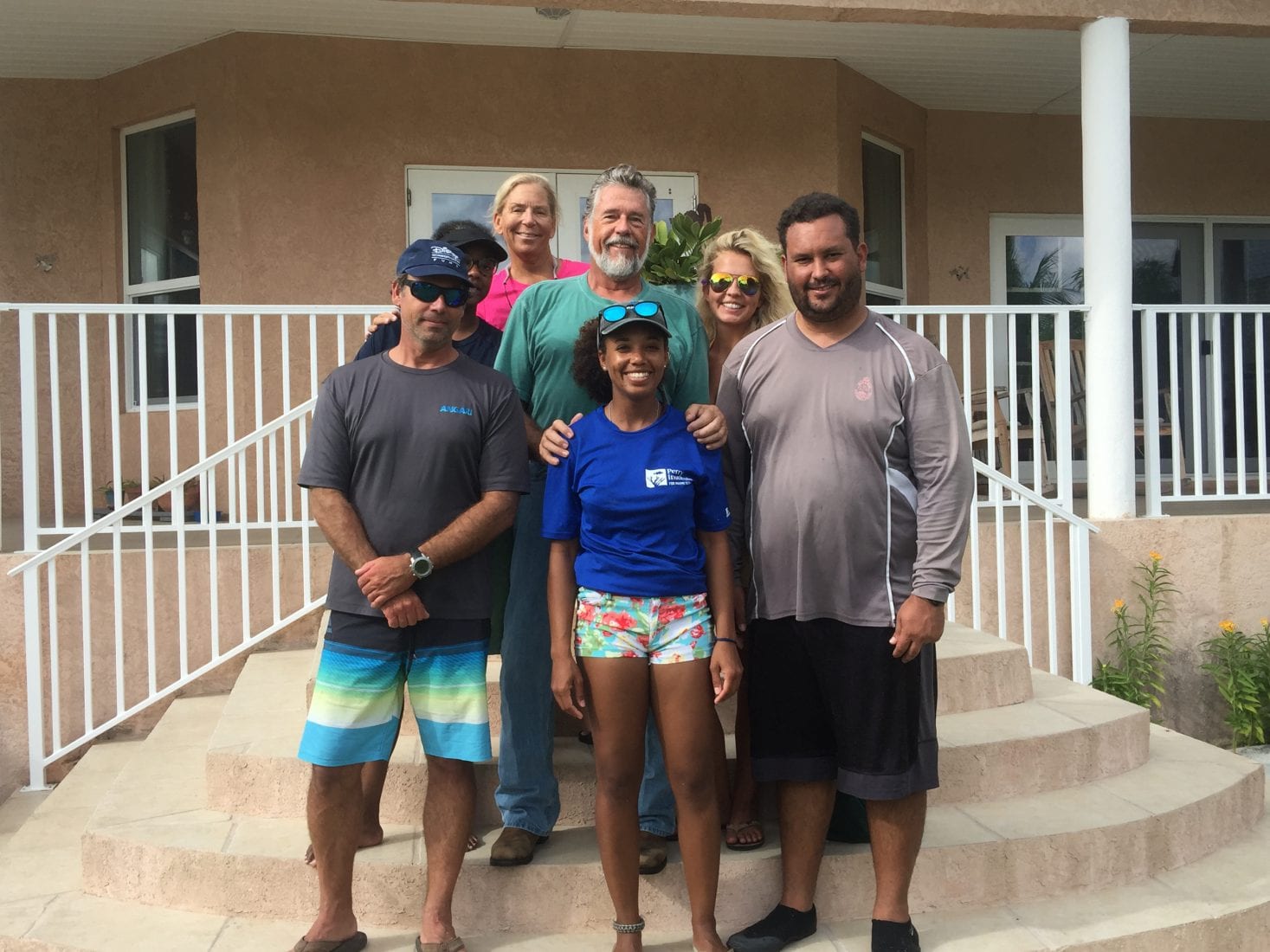 The team that installed the first coral nurseries for Grand Bahama Island. (Back to front: Sharon Benoit, Lily Haines: Perry Institute for Marine Science, Agnessa Lundy: Bahamas National Trust, Frank Benoit, Lindy Knowles: Bahamas National Trust, Dr. Craig Dahlgren: Perry Institute for Marine Science/Reef Rescue Network, Alannah Vellacott: Perry Institute for Marine Science /Reef Rescue Network