Rehabilitating Long-spined Sea Urchins
We're Only Just Grazing the Surface
The Long-spined urchin, Diadema antillarum, was once the most effective and important grazer on reefs throughout the Caribbean. These urchins are capable of clearing large areas of macroalgae and keeping it clear for coral larvae to settle and grow. However, in 1983, an unknown pathogen nearly wiped out the entire population of Long-spined urchins in the Caribbean region. Over the past 30+ years, their populations have begun to recover in some parts of the Caribbean, but populations have yet to see widespread recovery in The Bahamas, with densities typically reaching only 0.02 per m2 or less. These densities are not high enough to keep reefs clean of macroalgae and are also below reproductive thresholds, further preventing their recovery.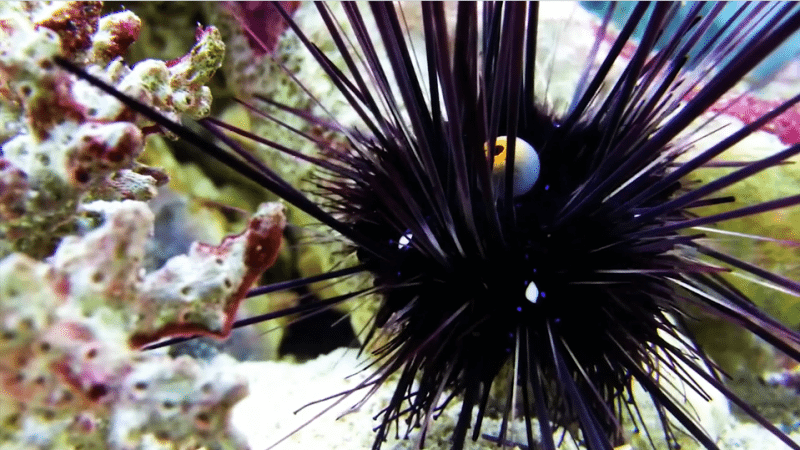 Above: Diadema antillarum, the long spiced sea urchin, is an important reef herbivore that keep algae in check. (Mickey Charter)
With this, Perry Institute for Marine Science and partners in the Reef Rescue Network seek to rehabilitate impaired coral reefs through restoring Diadema populations. Re-establishing populations of these important grazers will promote the nation-wide recovery of this key species, and build resilience of these reefs to promote natural recovery of corals.

Above: Diadema usually lives at 1–10 metres in depth in crevices on coral reefs and feed at night.
PROJECT OVERVIEW & EXECUTION
Nikita Sheil-Rolle, Senior Research Associate of Perry Institute for Marine Science, has set out to answer a few very important questions to prime this process of rehabilitation.
What is Diadema's consumption rate of algae per m2?
Can a sample of Diadema be successfully translocated from an area with a high-density of Diadema to a low-density area?
What is the relationship between diadema and their predators?
How do the environmental conditions correlate to diadema abundance?
Nikita and Alannah Vellacott, Research Assistant of Perry Institute for Marine Science travelled to the Exuma Cays Land and Sea Park, Bahamas, to construct a simple holding pen system to contain and observe translocated Diadema. Though the pens are simple, there were many steps in construction and it took a lot of preparation and trial and error both topside and underwater. Nikita and Alannah had to prepare as much of the pens' components on land prior to their dives to ensure they had the maximum time they could have underwater to construct them. The wire mesh that creates the walls of the pen and the thin bird mesh lids had to be pre-cut on land, and material bags had to be stocked with pre-mixed epoxy, an assortment of zip-ties, rubber bands and other tools.
Above: 2m sheets of wire mesh were cut for the walls of the cages.
Above: Alannah and Nikita cutting 2m squares of lighter mesh for the lids of the cages.
Above: An assortment of tools and materials needed for the underwater construction of the cages.
CONSTRUCTING THE UNDERWATER PENS
With the help of Joe Ierna, Park Adminstrator for the Exuma Cays Land and Sea Park (ECLSP) and David Maillis, Park Warden of ECLSP, Alannah and Nikita spent most of their trip moored at the 60ft deep research site, diving up to 4 times each day. Each dive consisted of plotting out a 2m square, drilling holes into rock to accommodate the rebar corners of each pen, epoxying the rebar into the drilled holes, zip-tying the wire mesh walls together and finally strategically attaching a mesh skirt around the base of the pens to prevent Diadema from escaping. Preparedness, teamwork and knowing one's physical limits was key to keeping their tight schedule of intense, task loaded dives.  This process of prepping, and the construction of the 6 temporary pens took Nikita and Alannah about 5 days to complete.
After constructing the pens, Nikita surveyed the benthic community inside them and took note of initial algal heights within it. Nikita plans to return to the pens to translocate a number of Diadema into them, and then after a month's time, re-survey algal heights and Diadema health. Each month Nikita will have a better understanding of Diadema grazing preferences, consumption rate and the density of Diadema needed to effectively clean a reef of macroalgae enough for coral larvae to settle and grow.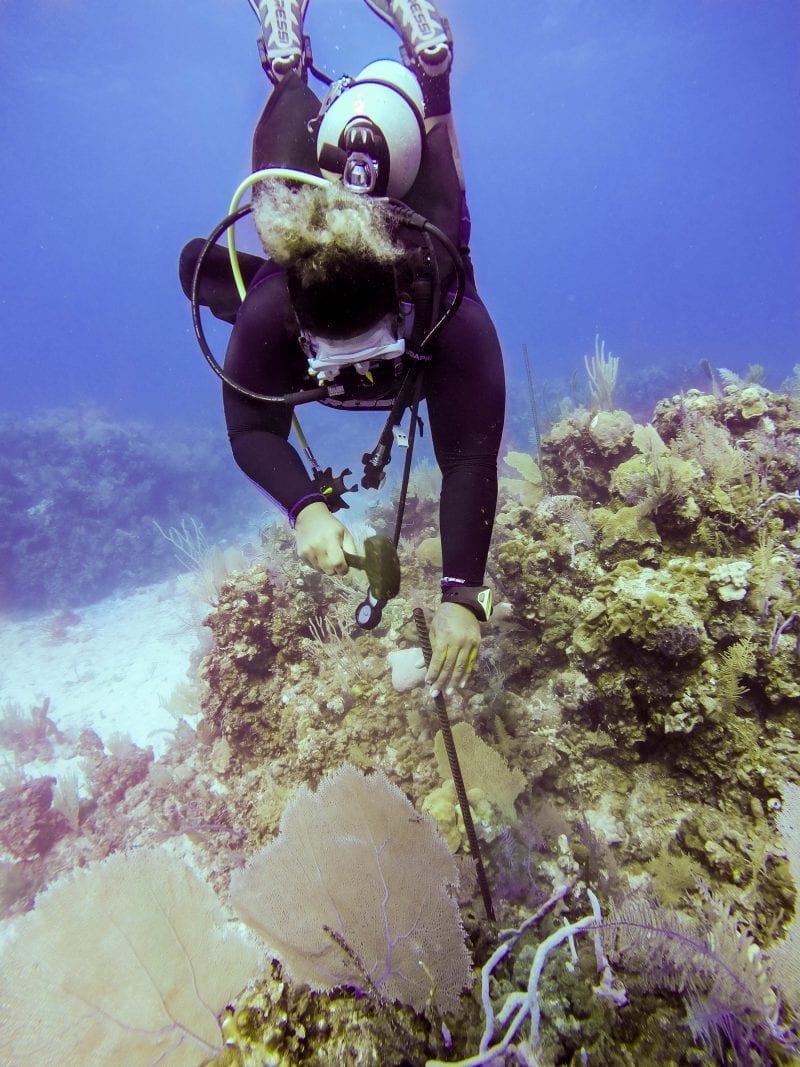 Above: Nikita Shiel-Rolle, Research Associate – Perry Institute for Marine Science, pounding rebar into a hole pre-drilled into rock at the research site. This will become one corner of a temporary pen.
Above: A 2m square was plotted on a carefully chosen part of the reef in the research area.
Above: Among the tools used to construct the temporary pens, Nikita and Alannah used an underwater drill to create holes on rock in which to epoxy rebar into.
Above: A nearly completed temporary Diadema pen. All that's missing is a top.
Here is a quick time-lapse of Nikita and Alannah constructing a temporary Diadema pen underwater:
CURRENT EFFORTS & FUTURE PLANS
In between checking the Diadema pens, Nikita sails the Exuma Cays aboard ships in the All Star Liveaboards fleet conducting AGRRA benthic surveys as well as conducting citizen science projects that include Diadema counts, and coral spawning observation when the timing is right. Recently, Nikita and Alannah were aboard the Cat Ppalu and though the weather was not on their side, the team and the guests aboard the Cat Ppalu still managed to collect valuable data on Diadema populations in the Exuma Cays.
Above: Nikita taught citizen scientists on board the All Star Liveaboard's vessel, Cat Ppalu, how to conduct Diadema surveys in an effort to survey Diadema populations within the Exuma Cays, Bahamas.
Above: Nikita, Alannah and the amazing crew of citizen scientists on board the Cat Ppalu.
Above: Nikita is back in Cat Island, Bahamas, replicating the study in the Exuma Cays Land and Sea Park.
We wish to thank the Bahamas National Trust, Disney Conservation Fund, Sea of Change Foundation and All Star Liveaboards for their support in this project.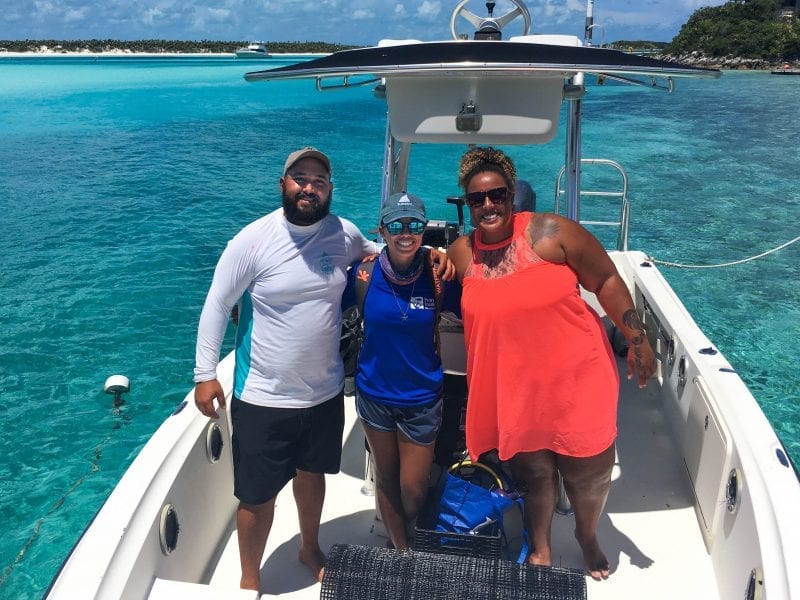 Above: David Maillis – Park Warden, Exuma Cays Land and Sea Park, Alannah Vellacott – Research Assistant, Perry Institute for Marine Science, Nikita Shiel-Rolle – Research Associate, Perry Institute for Marine Science
THANK YOU!