How a passion for the ocean from a young age led Will Greene to join the Middlebury College Advanced Field Biology course with the Perry Institute for Marine Science
Growing up on an island on the coast of Maine, the ocean has always been a part of my everyday life. I took it for granted when I was young, but when I turned ten, our local dive master and close friend gave me a SCUBA open water certification as a birthday gift – PADI had just changed the minimum age from 12 to 10 – and for the first time, I got to really experience the ocean, both in the frigid waters of the Gulf of Maine and down in the Caribbean, where mom and I would go for a week every winter to take care of my grandparents. I fell in love with coral reefs and their charismatic inhabitants quickly, and my favorite part of each of the next several years was spending time under the warm waves and being immersed in the entirely foreign and exciting world of reefs. My grandmother passed away in 2013, and I haven't been able to SCUBA dive since. I graduated high school in 2015 and moved on to Middlebury College in Vermont to continue my education. I love the Vermont landscape but have found myself missing the ocean more and more the longer I'm away from it.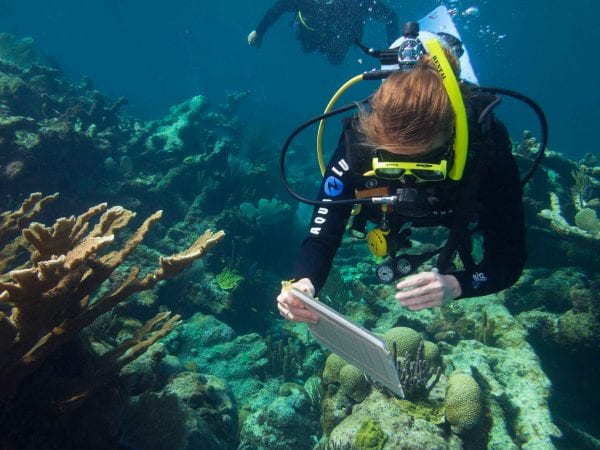 Above: Will Greene practicing an AGRRA survey.
That's why I applied in late 2018 to take part in a unique course Middlebury was offering: Advanced Field Biology, which would educate its students on coral reef ecology and species identification, their genetics and microbiome in relation to the increasing stress from warming oceans, and reef conservation through marine protected areas (all in the short span of a week), before heading as a group down to Abaco in the Bahamas, working with the Perry Institute for Marine Science to collect data to add to the Atlantic and Gulf Rapid Reef Assessment (AGRRA) database. I was lucky enough to be one of the students chosen for the course, and though I was excited to reconnect with and learn more about coral reefs in this pivotal time for their survival, I could never have imagined what an incredible experience the trip would be.
I splashed into the clear, tropical water at Fowl Cays National Park on our first dive day – January 17, 2019 – and immediately, it all came back me, in a total sensory overload: the familiar feeling of chilly water seeping into my wetsuit, the aqua blue of the shallow sandy bottom, gorgonians waving back and forth in the surge, bar jack, blue chromis, and yellowtail snapper darting around, and the steadfast corals that make the foundation of the ecosystem. When I was younger, I appreciated corals but knew nothing of their taxonomy. In the first week of the course, the ten students and three professors were put through a crash-course on ID for each of the three categories in the AGRRA protocol (corals, fish, and benthic organisms) via slideshow by Dr. Craig Dahlgren, Director at the Perry Institute for Marine Science (PIMS). On the first dive, I tried to remember as much identification as I could, but a slideshow can't compare to first hand experience, so I quickly realized how much I had to learn. As a photographer, I spent much of our first few orientation dives taking photos of as much as I could, which we all used to learn our ID in the evenings back at our home away from home at the Kenyon Centre, a research facility run by Friends of the Environment, a non-profit dedicated to conservation and education in Abaco.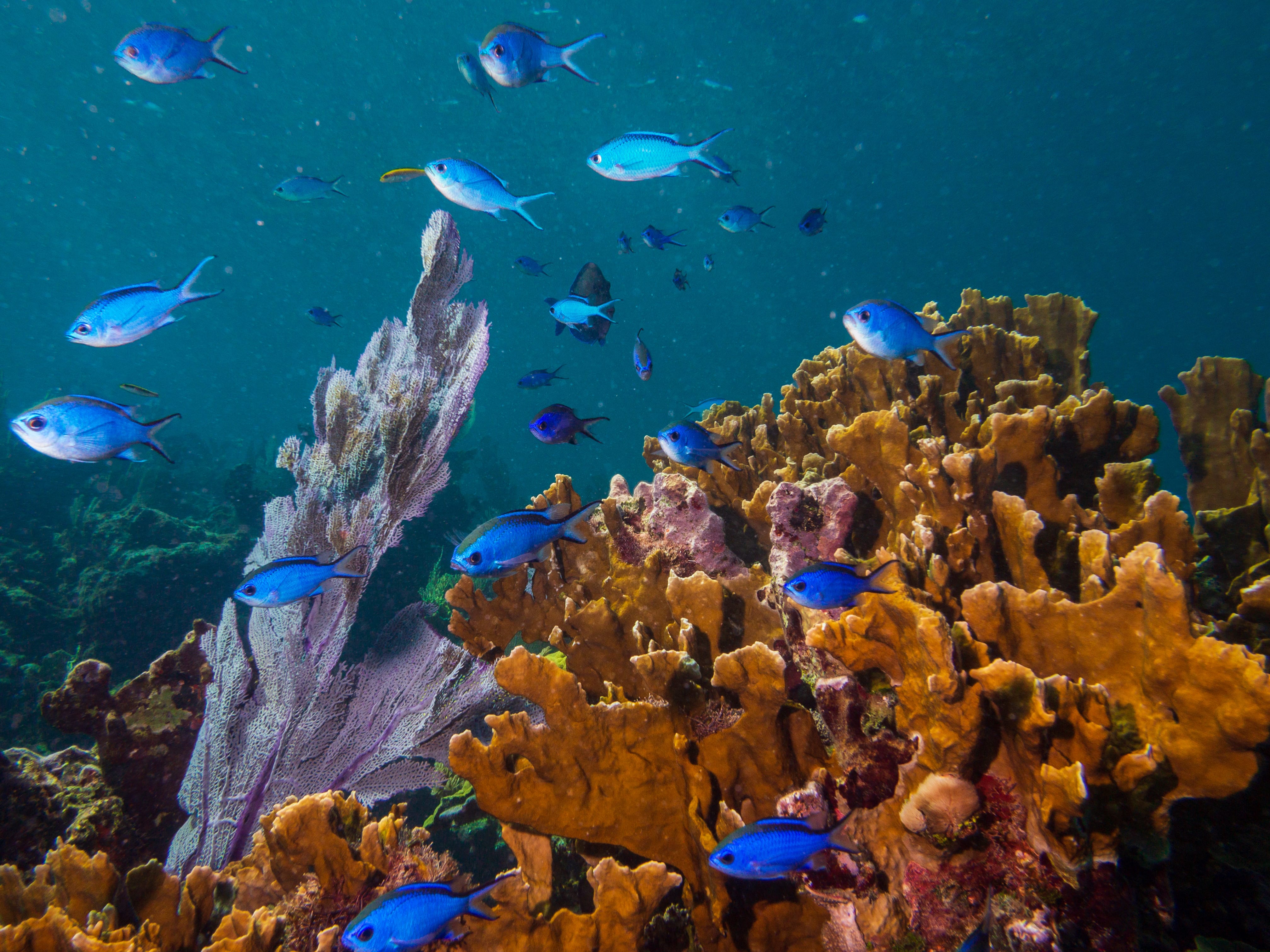 Above: Blue chromis, Chromis cyanea, darting above a coral reef (Will Greene)
Over the course of the first three days, while the six new divers worked to quickly get their PADI Open Water certifications with Hayley-Jo Carr (PIMS) and David Romer (Dive Time Abaco), the other four of us who had previous diving experience improved our identification skills and learned how to conduct AGRRA surveys with Dr. Dahlgren. By the second dive on the third day, the four of us were comfortable enough with identification and survey methods to then buddy up with the newly certified divers so we could help teach them too. This system worked incredibly well and allowed all of us to get on the same page as quickly as possible. My favorite thing about this was that for all ten of us, experienced or not, the palpable sense of awe and wonder at the beauty and complexity of reefs was the same. I had a hard time stopping myself from smiling while swimming around, pointing out the different corals I'd just learned how to identify to my classmates. We all finished every dive shaking our heads at how lucky we were to be able to take part in this amazing experience and get to contribute to coral conservation at the same time.  
Out of the water, the group bonded over not just our underwater experiences, but cooking delicious food, singing along to Disney movie music, and playing highly competitive and hilarious card games as well. On a few of the days, unfavorable winds kept us off the reefs, so we spent time helping The Perry Institute for Marine Science Reef Rescue Network, by constructing survey equipment and PVC tree structures for coral nurseries.  The coral trees will serve as a tool to help grow staghorn coral that will be out-planted on reefs in an effort to bring back populations of these critically endangered corals. We also visited the mangroves off Snake Cays, where we checked out the nursery habitat for many of the important reef-dwelling fish species. One evening, we all watched the film Chasing Coral– a pretty devastating but inspiring look at coral bleaching and the future of coral reefs. It gave us some more context on the work we were doing, and really drove home the importance of finding ways to help corals stay alive through the dramatic challenges they face.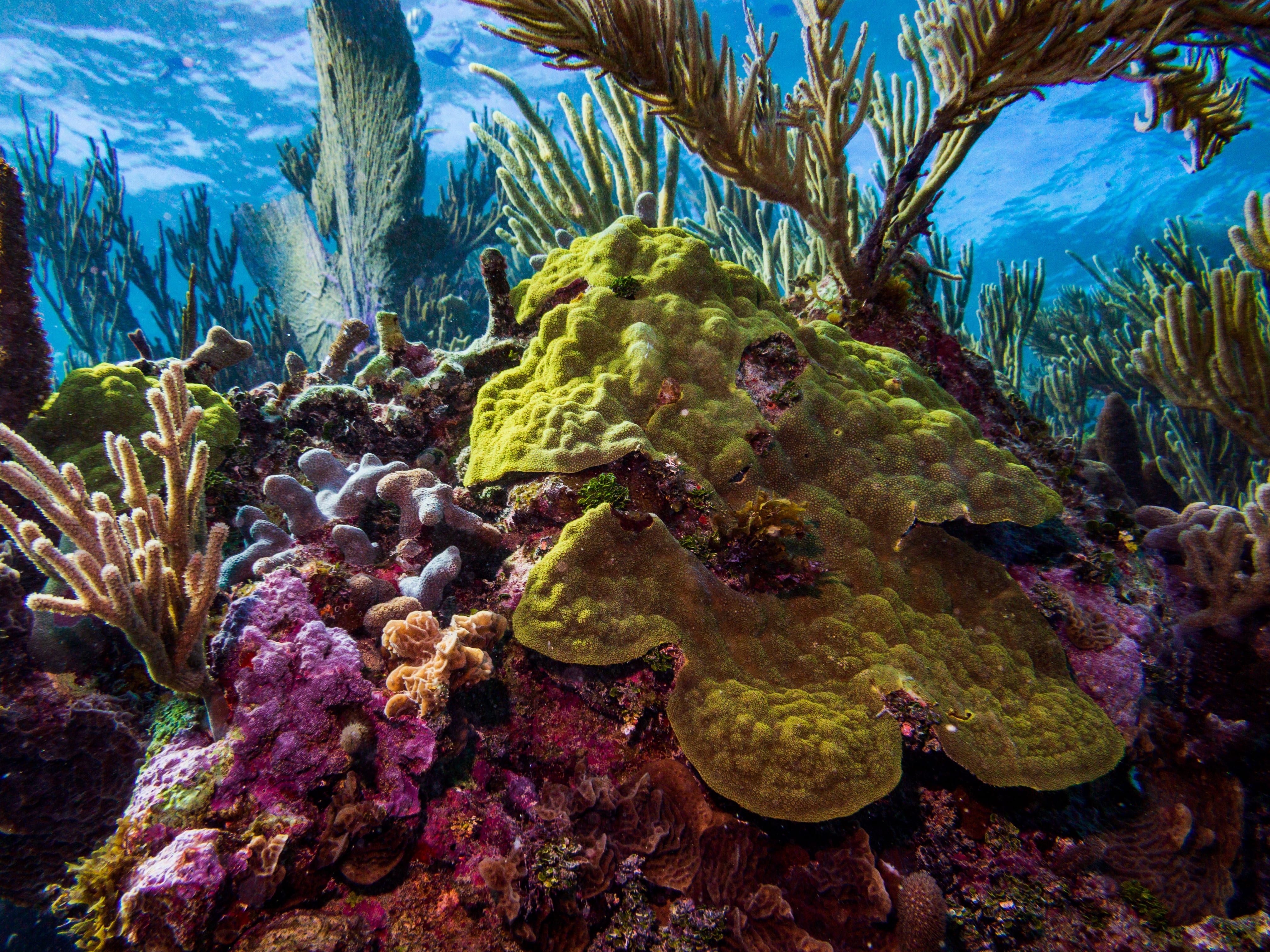 Above: Mustard Hill coral, Porites astreoides (Will Greene)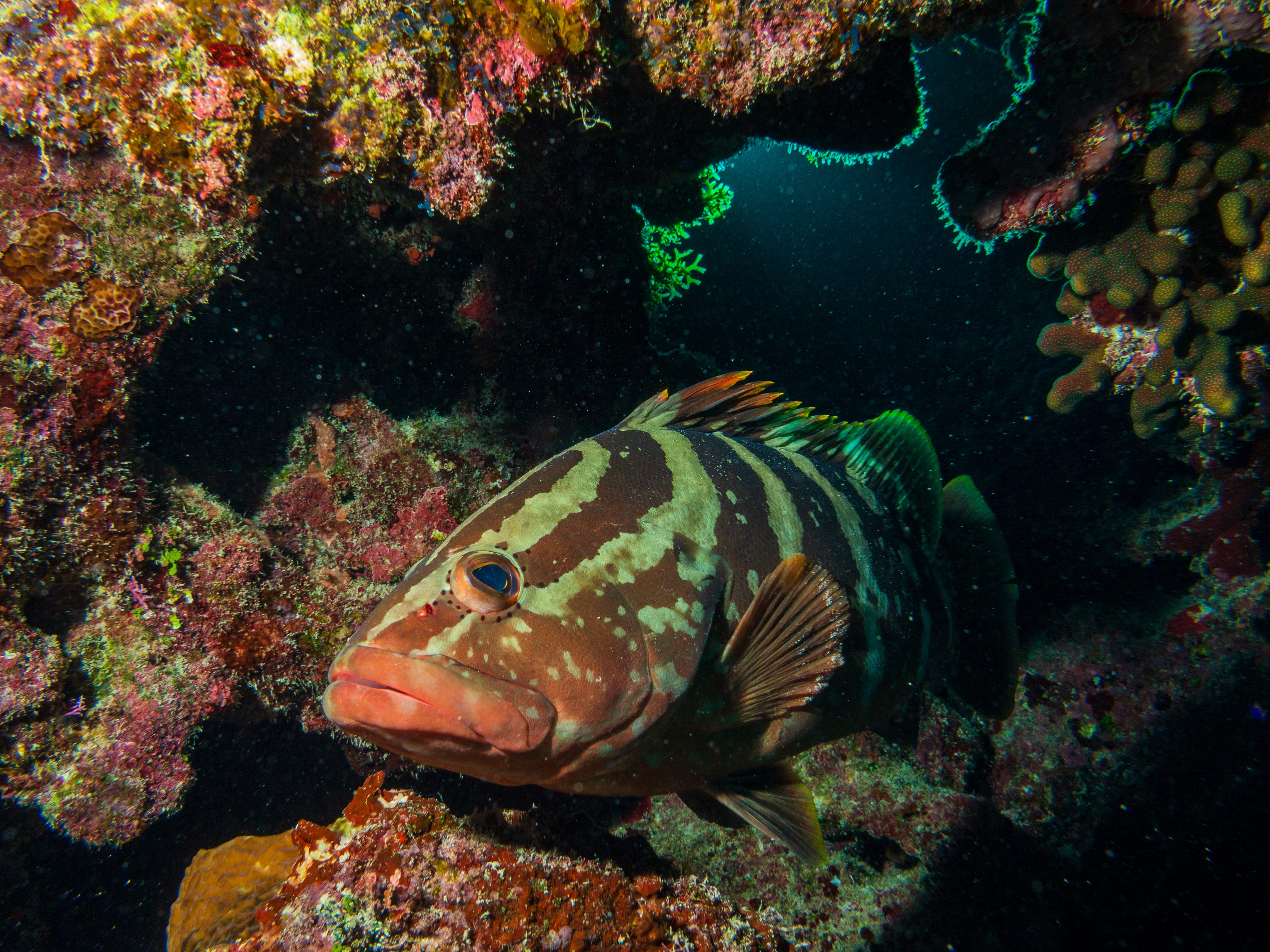 Above: Nassau grouper, Epinephelus striatus (Will Greene)
In addition to the AGRRA surveys, we worked with Dr. Ross Cunning (Shedd Aquarium) and Dr. John Parkinson (Secore International) to collect tissue samples from specimens of Orbicella faveolata, a crucial reef-building coral, from two different sites. One of the sites, Mermaid Reef, is home to large, intact colonies of this coral, despite the extreme temperatures it experiences: up to 90ºF in the summer and down to around 65ºF in the winter – typically too hot and cold for corals. We experienced this first hand, as the water when we did surveys there was a chilly 67º. Our hope with these tissue samples is that we can find genetic differences in the Mermaid Reef coral that might give it tolerance to temperature swings. This could give us clues into heat tolerance pathways in corals, offering novel conservation strategies to prevent bleaching in the future. 
Overall, our journey was a magical experience for all involved. My favorite dive of the trip was at a site called Sandy Cay, in Pelican Cays National Park off of Abaco. This site had some of the most intact coral I've ever seen – large stands of Elkhorn and Staghorn coral, and a diverse array of other species too. To top it all off, while we were looking at corals at the edge of the reef, three hulking Spotted Eagle Rays glided in toward us, seeming to materialize out of the blue. They were the biggest ones I've ever seen – probably near 8 to 10 feet across. Everything about the site was totally breathtaking and I felt like I was stepping back in time to a prehistoric reef. The rarity of this kind of site was cemented by the fact that many of the species we saw are listed as endangered or critically endangered by the IUCN. More than anything else on the trip, seeing Sandy Cay kindled both a sense of hope and urgency: intact and healthy corals are still out there, and are in desperate need of protection if we want to save them.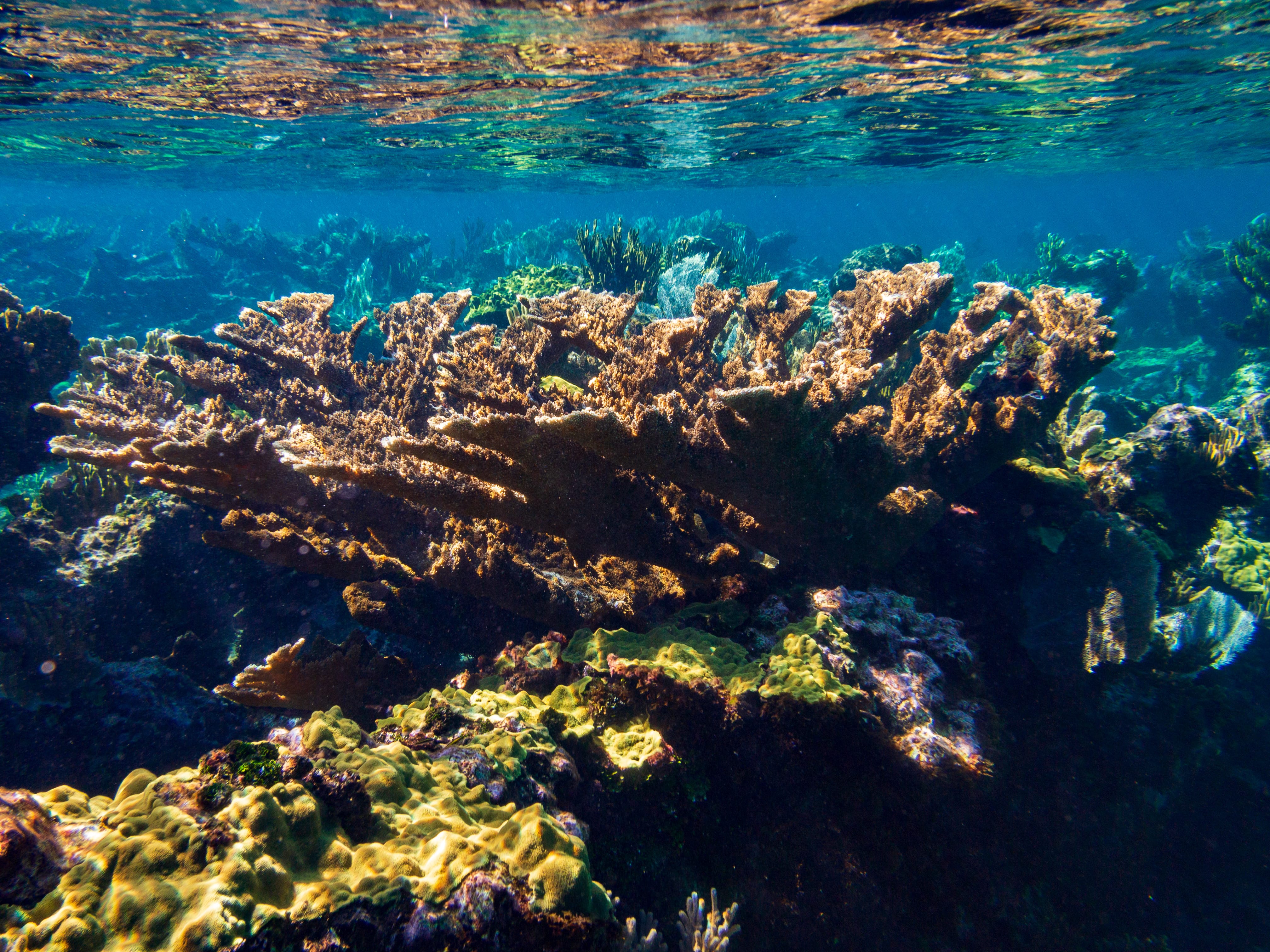 Above: Elkhorn coral, Acropora palmata (Will Greene)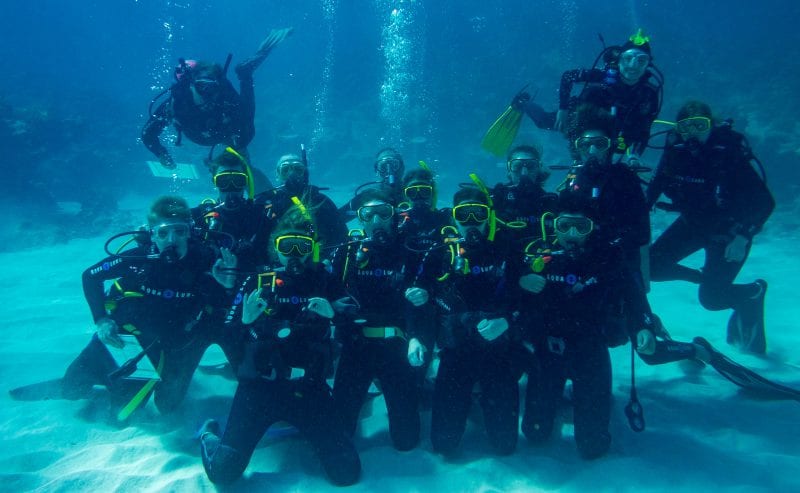 Above: Middlebury College Advanced Field Biology Class